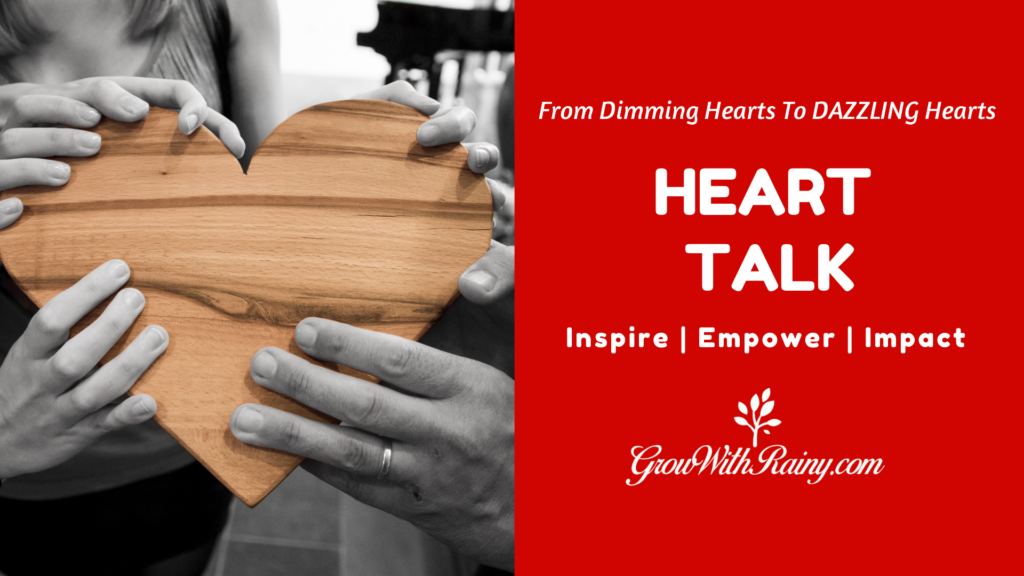 5th August 2020,  8pm – 10pm [ Online ]
An evening of Inspiration, Empowerment, Impact. 
If you believe that Who You Are Makes A Difference, do join us.
At HEART TALK, we seek to connect, encourage and empower one another with our life stories, our struggles, our triumph and everything that makes us human.
If you are looking for a touch and go networking, Heart Talk is NOT for you.
But if you are looking to connect with people on a deeper level, over a meaningful conversation beyond the surface, Heart Talk is for you.
Are you ready to network and connect from your heart? 
Rainy is the founder of Rainmakers Coaching International, a Speaker, Trainer and Author who is on a mission to Inspire, Empower and Impact over 1 million people worldwide, to breakout of their emotional prison and reclaim their power with practical tools and strategies so they can feel liberated, safe and certain to create the life they absolutely love.
Her passion towards personal growth for the last decade has led her to embark on a journey of growing and empowering others through the power of subconscious mind, strategic interventions, negative emotions clearing and transformation coaching to heal and help people create a lasting change.
As a Transformation Coach and a Strategic Interventionist, she has helped over hundreds of executives and entrepreneurs who are going through downtimes, to breakthrough their fears and overcome unconscious self-sabotage, so they can level-up their personal and professional results, by transferring her proven Transformation system, equipping them with absolute Clarity, Courage and Confidence so they can achieve their goals in 6 months or less, absolutely feeling happier, loving and successful in all areas of their life.
She is also a Certified Strategic Interventionist (Robbins-Madanes Training), Neuro-Linguistic Programming Master Practitioner (International Association NLP), Licenced Neuro-Linguistic Programming (NLP) Practitioner (The Society of NLP), a certified NLP Coach (The American Board of Neuro-Linguistic Programming) and a Certified Timeline Therapy Practitioner (Timeline Therapy Association – Dr Tad James).
This site is not a part of the Facebook website or Facebook Inc. Additionally, This site is NOT endorsed by Facebook in any way. FACEBOOK is a trademark of FACEBOOK, Inc.
DISCLAIMER: The sales figures stated above are my personal sales figures. The average person who buys any "how to" information gets little to no results. I'm using these references for example purposes only. Your results will vary and depend on many factors, including but not limited to your background, experience, and work ethic. All business entails risk as well as massive and consistent effort and action. If you're not willing to accept that, please DO NOT GET OUR INFORMATION.
Terms and Conditions | Privacy Policy | Cookie Policy
Copyright 2019 – GrowWithRainy.com – All Rights Reserved