This exclusive offer ends when the timer runs out :

Want Me To Physically Silence All Those Inner Critical Voices Of Yours Permanently With My Proven Formula So That You Can Live Life Without Feeling Anxious Or Doubtful In Just 30 Days
A "fluff" free, no nonsense swift approach to overcoming the personal hurdles that's been holding you back for years!
This exclusive offer ends when the timer runs out :
Let me take you by the hand and show you exactly how you can start to rid yourself of all those naggy inner critics, doubts and anxieties with just a few simple easy to follow steps starting TODAY!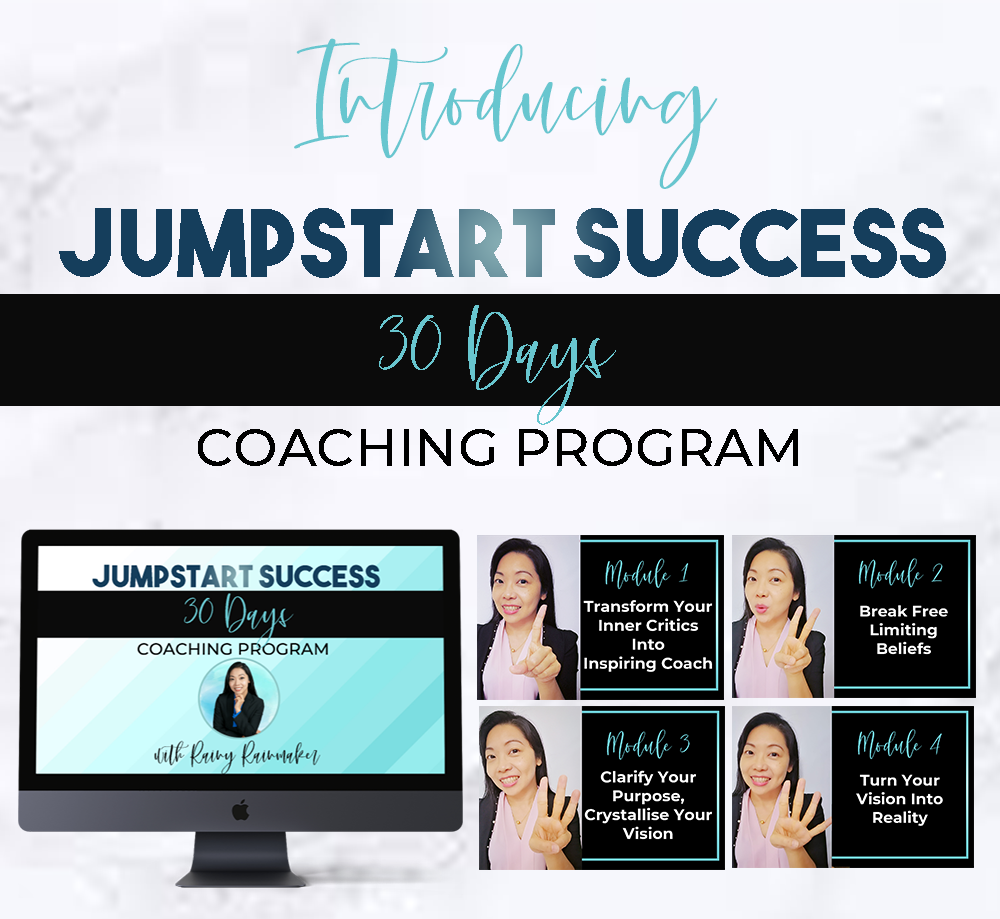 A Brand New, Revolutionary Program That Delivers Actual, Quantifiable And Tangible Results Within Just 30 Days!
Does It Actually Work? Here's Proof …
I reached out to Rainy when I was going through a challenging time in my personal life.
Working with Rainy has helped me better understand myself, my goals and priorities in life, regain my confidence, and has completely changed my attitude towards life.
Even now after we have finished our coaching, we are still in touch and I consider Rainy my very close friend.
I really recommend you to give coaching with Rainy a try and see for yourself if it's something you could benefit from.
I decided to engage Rainy as my coach when I needed help to grow personally and professionally. Deep down I knew I was made for more, however I needed someone who could help guide me in unlocking my potential – to provide guidance, keep me accountable and help me dig deep within to overcome my self-limiting beliefs so that I can truly grow.
She has an amazing ability to empathise, understand yet push you at the same time. Looking back, I would never imagine to be progressing this quickly without her help. I live my life with so much more clarity, confidence and purpose now and the quality of the relationships I have with my loved ones has drastically improved.
Engaging her help is no doubt one of the best decisions I made for myself!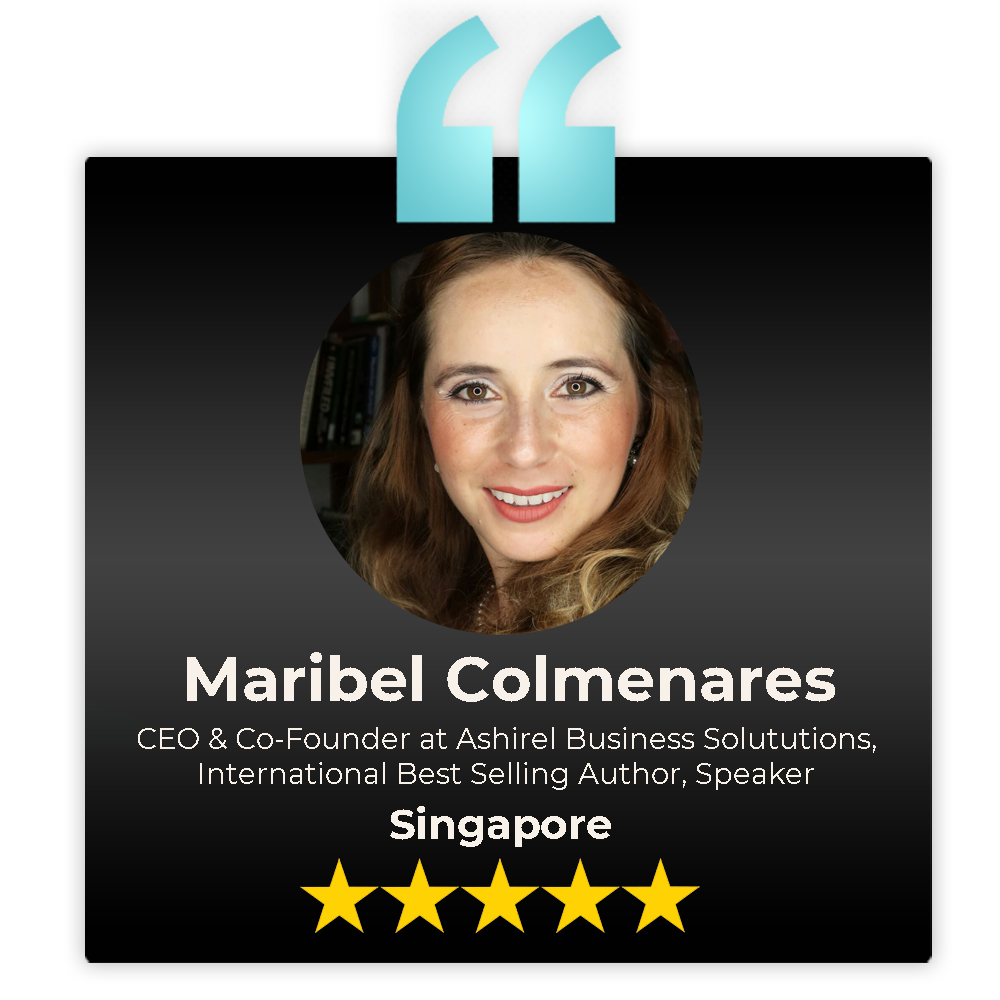 I am a firm believer that having a coach and a mentor is crucial for success
Rainy has been instrumental to my progress and has help me as an accountability partner to ensure I stay on track with my goals and aligned with my purpose and values.
Apart from her coaching sessions I have gained beautiful friendships and grow my network through her Heart Talk community.
I highly recommend coaching with Rainy. Her professionalism and empathy, along with her tools and knowledge gave me a real boost in terms of clarity and empowerment.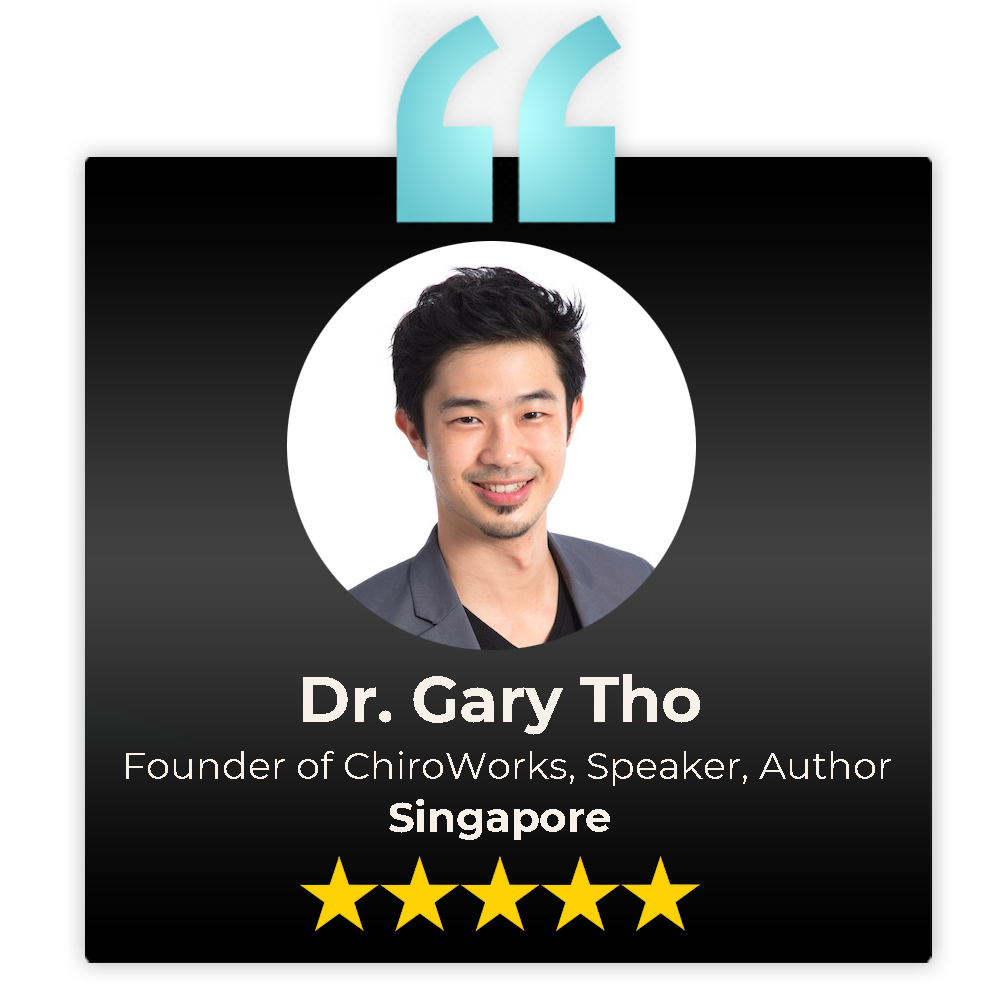 The one thing that drives me crazy during coaching sessions with Rainy is having to acknowledge myself. Despite all the accomplishments I have achieved, I still had doubts and down played wins. Instead of celebrating little wins and building myself up, the inner critic weighed me down, like a sinking feeling in my heart, eating away at me. After coaching with Rainy, I find it easier to make progress and navigate life. This ease comes from being able to acknowledge my wins and silence the 'that could have been better' critic.
That's the one thing that has stuck with me; Rainy's signature quote "Be your own #1 fan". Having self-acceptance, self-belief and self-praise helped me to keep moving forward, growing and pursuing my goals. I spend less time beating myself up or worrying about how people may or may not judge me. It means that I can move on. To be present in whatever I am doing, to give myself fully to my self, my family, my patients, my business. Thanks for your patience and care Rainy.
Curious To See How It All Actually Works? Here, Let Me Show You What You'll Get From This Program.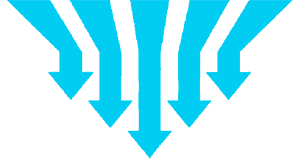 #1: Weekly Online Modules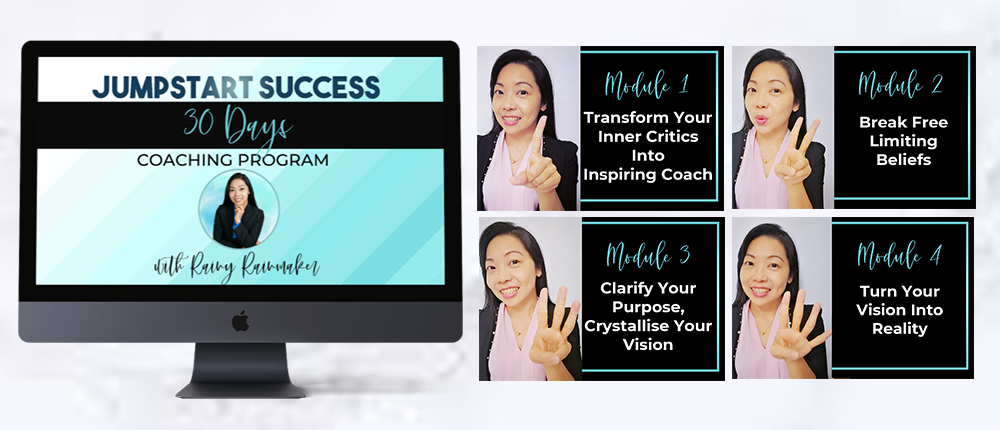 You'll have access to weekly online modules where I'll be giving you simple, easy to execute tasks that'll accelerate your results instantly.
#2: Offline In Person Group Coaching
We'll meet up for a two hour deep dive session in person where I'll clear your doubts, clear the roadblocks standing in your way using quick but powerful exercises and answer all of your questions.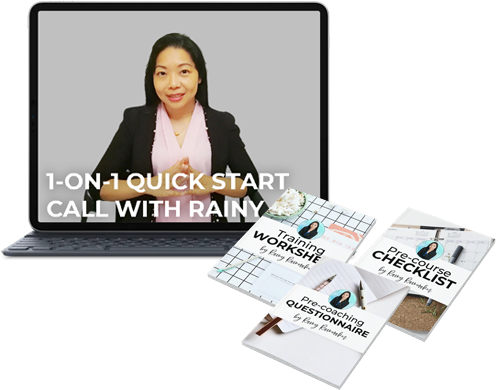 1 x 1-on-1 quick start call to set you up for success, plus pre-coaching questionnaire, pre-course checklist & worksheets to get you focused on your outcomes
#4: Weekly tasks & daily accountability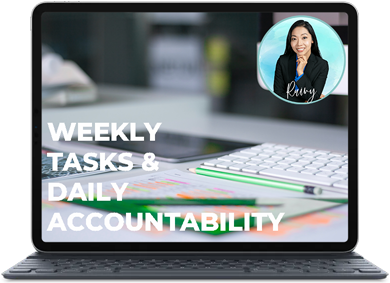 Weekly tasks & daily accountability to ensure your success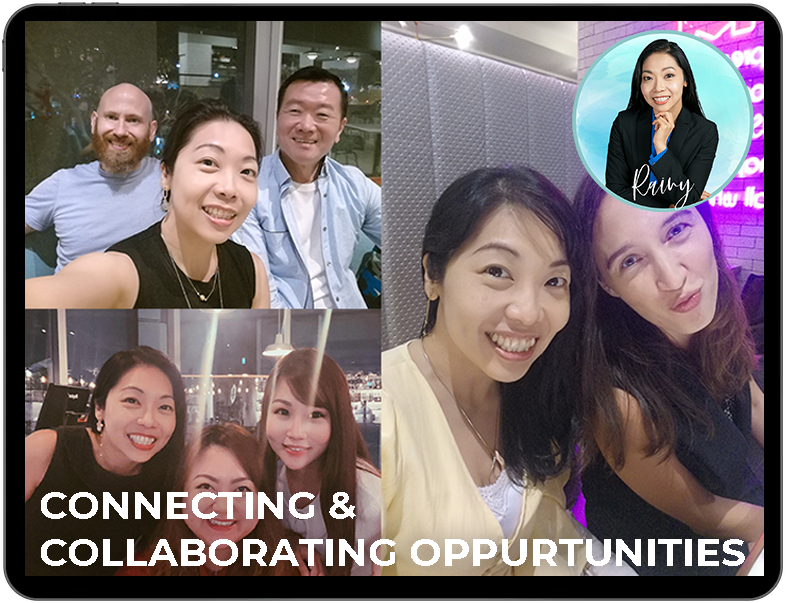 Connecting and collaborating opportunities from like-minded members you're going to meet and interact with in the group
The support and camaraderie from other growth seekers going through the same program as you
Accountability Buddy to kick your butt
A warm and safe environment where you can open up, be loved and not be judged
In order to ensure that you'll actually get long lasting results that are permanent I've bundled up a very special bonus bag of tools for you which I've invested thousands to acquire. They are :
Amazing bonus module on:
The secret formula to gain clarity and get unstuck from over-thinking instantly (even when you are in the rut
Amazing bonus module on:
How to tap into your four supreme powers so you can face everything and rise.
Daily Accountability via Whatsapp
Throughout the journey, you will have my personal guidance and coaching via WhatsApp. Journey to the top doesn't have to be a lonely one. 30 Days Unlimited, Private Whatsapp Group Access To Rainy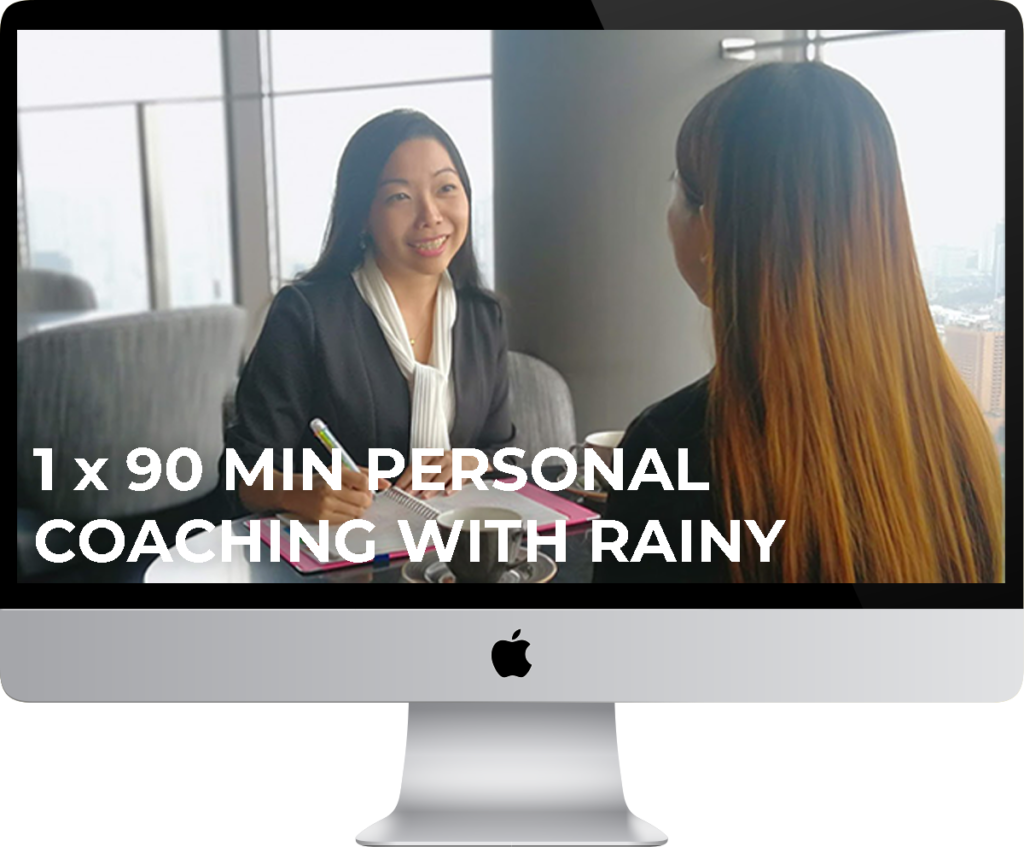 After the journey, you'll have 1 x 90 minute personal coaching with Rainy to ensure you have everything you need to sustain your transformation and scale up your success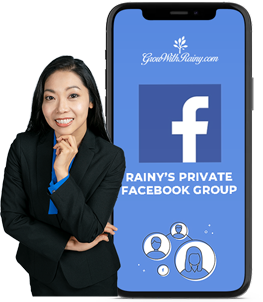 Amazing bonus module on:
The secret formula to gain clarity and get unstuck from over-thinking instantly (even when you are in the rut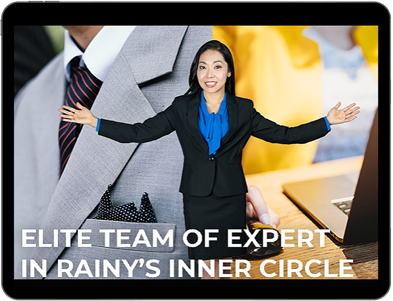 Amazing bonus module on:
The secret formula to gain clarity and get unstuck from over-thinking instantly (even when you are in the rut
Amazing bonus module on:
The secret formula to gain clarity and get unstuck from over-thinking instantly (even when you are in the rut
Like I've mentioned earlier, this is a fluff-free no-nonsense and anti "woo-woo" program. The techniques I'm teaching you in this program came from years of proven scientific research and testing.
In fact, I've used these methods and technique on myself to recover from severe depression, grow rock solid personal confidence and built my coaching business
It took me years of investing in my personal development, to finally found the strategies and techniques to break free from my emotional prison. You can do it like I did, trying to find your own way through trial and error and waste over 10 years of your lifetime, or you can take an express way by following my step-by-step proven processes.
And today I'd like to show you exactly how you can do so as well.
Hear The Stories Of A Few More Of My Past Clients…
Lilin Kan, Accountant, Singapore
"She allows me to have a breakthrough, be more clear headed, get rid of existing backend templates that's keeping me from being successful, achieve better trading results and overall way of doing things…"
Dr Mie, Dentist, Philippine
"There is always a breakthrough, she helped me to get the direction of what I really want..
Kate Zhirnova, Energy Teacher, Russia
"If you want results in your life you're in the right place!"
Maria Mikhailova, Personal Stylist, Editor, Russia
"I had a very big fear, I was afraid to be successful, now I don't afraid anymore. It was amazing, I felt freedom."
JF Louis, Financial Adviser, Singapore
"It was very powerful because it reminded me to overcome self-doubts and limiting beliefs because I had a lot of thought about am I adequate enough?…"
Reena Kong, ACII Chartered Insurer & Accreditation Panel Member of Finance Accreditation Agency (FAA), Malaysia
"You helped me to understand what is the most important thing I need to do and how I should move forward…"
Let's Do A Quick Recap Of Everything You'll Be Receiving From Me When You Sign Up With Me Today: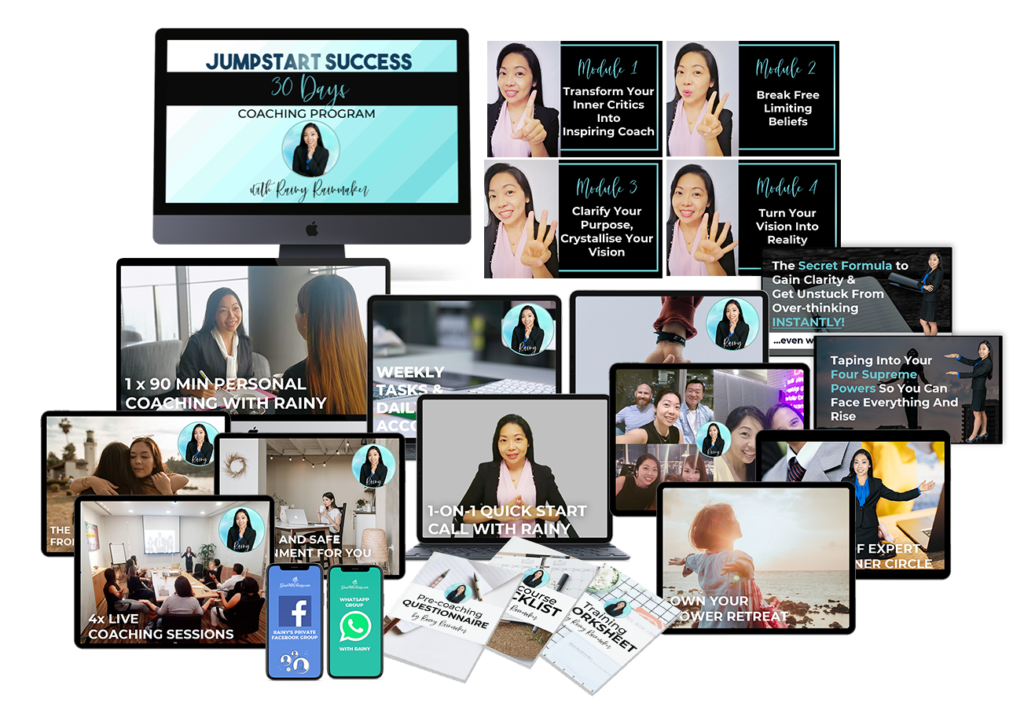 TOTAL VALUE OF EVERYTHING YOU'LL GET:
*** Enrolment for this program has closed ***
Join the waiting list now!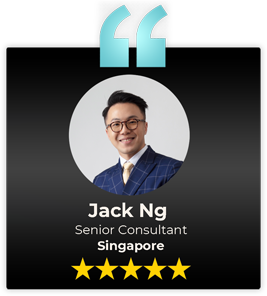 I believe in having mentors and coaches because they can bring me to where I have never been to, they can show me any hidden area and my blindspots. I am humbled many times, that it's not the amount of 'mentors or coaches' that I have collected but, it's the amount of work, mindset and skill sets that I much needed.
Over the years, I have been to so many courses and programs and many of which challenge me to come out with my BIG WHY but somehow i am always stuck. Rainy challenged me and pushed me for my BIG WHY. When we just started, I had all the inner-critics and limiting beliefs creeping on me all over again.
But however this time, we persevere with the process and the breakthrough happened! The BIG WHY! I gained great clarity and alignment of my Life Purpose and Vision! Now, I am Congruent and Balanced. I am exactly where I need to be and I am on the way to where I want to be withT the people whom I love to be with. Thank you my Coach!
I am appreciative of everything that comes to my life. I am grateful to Rainy for launching this Jumpstart program just at the right time!
From my personality and career undertakes, serving others before myself is a natural skill set that is born within myself. But during the covid-19 lock down, I was forced to focus only on myself. I am lost and I totally don't know how to live my life within myself. Nobody in my surroundings that I can reach to physically. Lost, stucked, agitated and self-frustration begins.
Appreciate Rainy's Jumpstart Program, allowing me to understand myself more – discover and understand my strength, what is important to me, life purpose and etc which is truly meant from my heart but not from my logical mind.This allows me to understand what is the true wisdom and true power that everyone has to equip with in order to be the master of our own life.
Rainy is a sincere and genuine coach who has helped me when I was at the lowest point in my life journey. She showed me how I have sabotaged myself with my own self-limiting beliefs, eg. "I'm never good enough".
She was able to guide me to reconnect to my own strengths, core values and most importantly my authenticity. Through her coaching, I began to have clarity. I have not lost anything but I'm actually beginning on a new path to discover more good things in life.
The beauty of life-coaching is that it can be the best catalyst and the sparkles towards becoming the best version of yourself regardless of the stage one is in. If you are looking for a life coach/mentor who is authentic and passionate about transforming individuals or to empower you, the answer is Rainy the Rainmaker.
My world collapsed… not knowing what to do I frantically looked for solutions.
Thankfully I met Rainy, and within just 1 coaching session she reorganized my mind and refocused my goals.
At the Jumpstart Success Program I've met growth minded people, we learnt techniques on how to manage our thoughts and improve ourselves together.
I've had a tremendous change from a negative, over-thinking, fear, unfocus person to a positive, laughing, courageous woman who starts to say "why not?"
Thank you Rainy for appearing in my life and I will continue to spread your spirit of helping people too.
I knew Rainy for more than two years and started my personal coaching with her this year.
It has been 10 months since the coaching journey and I truly feel that my self confidence level has increased.
Rainy's Jumpstart programme helped me to move from Fear to Freedom; discovering my weaknesses and taking small steps to work towards improving and building the best self from within.
I would recommend this programme and most importantly, Rainy, as a life coach!
Risk Free – Satisfaction Guaranteed When You Enroll In Jumpstart Success Today!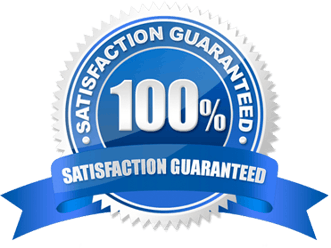 The training modules, strategies, and techniques are easy-to-follow and simple to apply.
But I understand that making this kind of life-changing decision is a big deal. That's why, if you're still trying to figure out if this program is for you, I am happy to offer it to you with a 100% risk-free guarantee.
Enrol with CONFIDENCE with my 100% Satisfaction Guarantee
Try us for 30 days, go through the instructional videos, commit to do the work faithfully and attend the weekly live coaching with me, and if you're not completely satisfied with your experience, just email us within the first 30 days of your enrolment and we will refund your enrolment fee. Easy!
Here Are More Success Stories For You…
Co-founder Zentellect Corp, Phillipines
"She was able to give me the clarity that I need…"
Nick Yung, FitCoach, Total Wellness Transformation Coach, Speaker, Author
Malaysia
"After only one session my negative emotions have already gone"
Julia Gerassimova, Theta Healer, Australia
"She's really amazing woman, she's so sincere…"
Grace Tay, Networker, Singapore
"I'm able to find my passion and purpose in life, this is really transformational.
I was lost and confused…you have showed me what's inside me…I see lights…" 
D'Hann, Malaysia
Author, Speaker Founder of Raise Them Right System
"Rainy removed all of my panic attacks! It's changed my life!"
Jack HM Wong, High-Ticket Closer™, Entrepreneur, Author, Singapore
"If you are looking for somebody who can empower your life, take your life to the next level, you have to look for Rainy, she is the deal"
Jumpstart Success Coaching Program!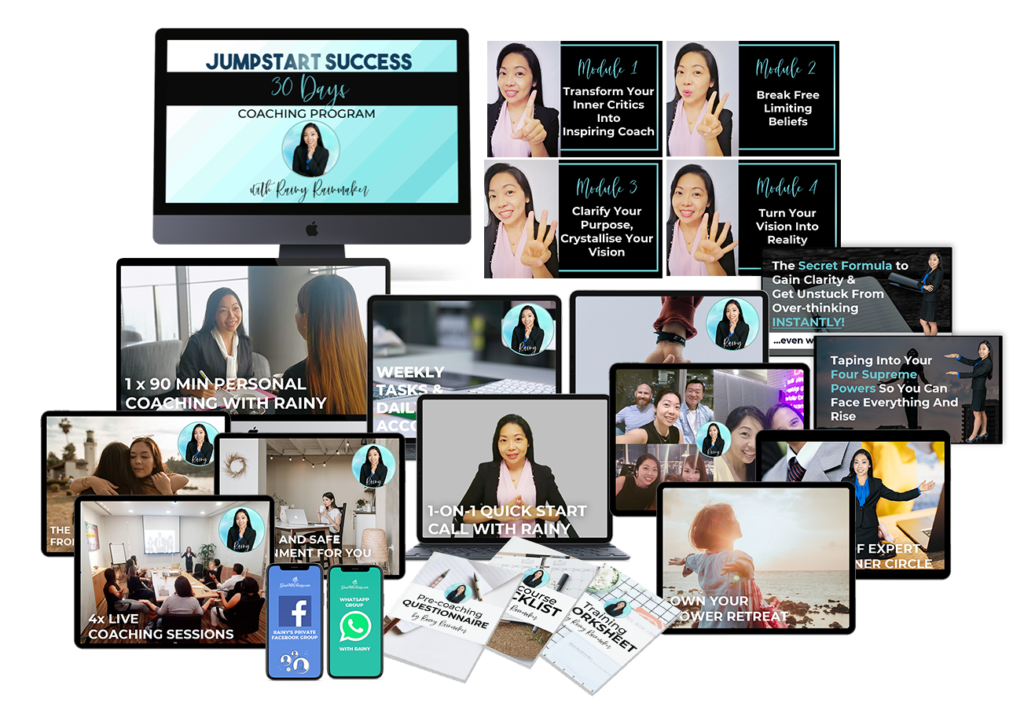 Sign up today and get access to my entire program for just…
*** Enrolment for this program has closed ***
Join the waiting list now!
About Rainy Rainmaker,
Your Jumpstart Success Coach
I am the founder of Rainmakers Coaching International, an International Transformation Coach, Trainer, Speaker, Author who is on a mission to Inspire, Empower and Impact over 1 million people globally, to breakout of their emotional prison and reclaim their power with practical tools and strategies so they can feel liberated, safe and certain to create the life they absolutely love and adore
My passion towards personal growth for the last decade has led me to embark on a journey of growing and empowering people through the power of subconscious mind, strategic interventions, negative emotions clearing and transformation coaching to heal and help people create a lasting change.
I started coaching in 2013 in my attempt to save myself from my toxic relationship, not knowing that it would led me to living my higher purpose today.
I am a Certified/Licenced: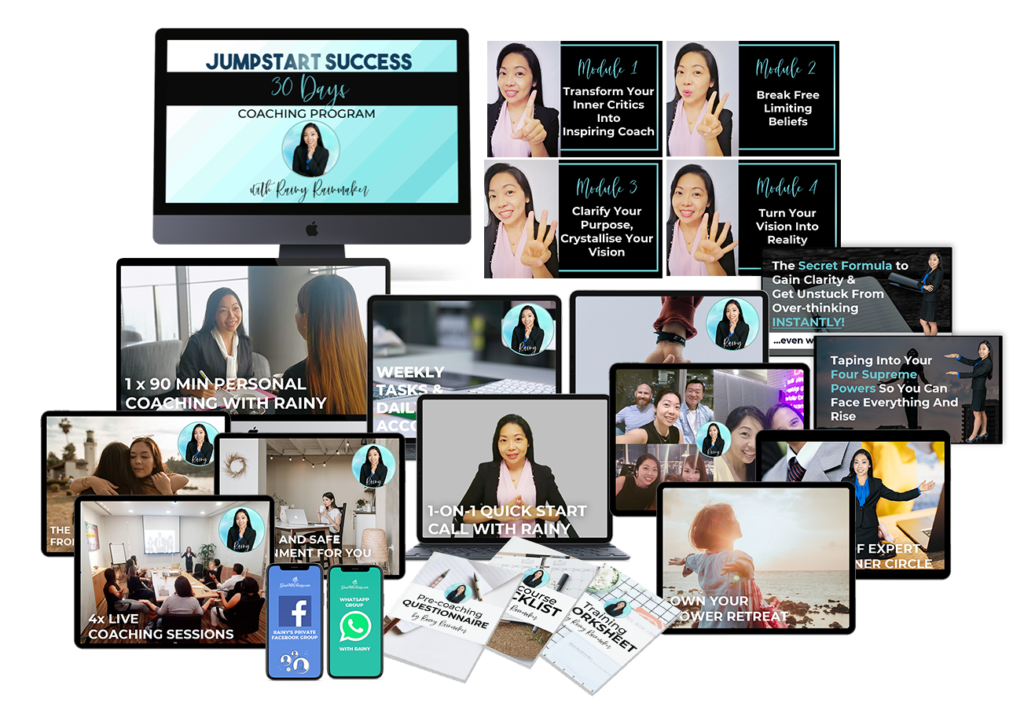 Join Jumpstart Success
Coaching Program today at
Copyright © 2020 – Rainmakers Coaching International